"Sir, we'll have to cancel some of these retailer orders. We don't have enough ready stock," said Gaurav, the right-hand man of Dhingra ji.
Mr. Dhingra was an important distributor for Yummy Namkeen's in Gurgaon. And he was not happy at all. They had received 220 orders of Corn Puffies and they could only fulfil 150.  "But haven't we raised POs to the company already?"
"Yes sir, we have", said Gaurav, "But we are still waiting for the Purchase Order to be processed". I'll call the RSM (Regional Sales Manager) and find out." Dhingra ji was getting frustrated. "Aata hua paisa jaa raha hai! There has to be a way to manage our stock better without constantly calling the RSM every time. I cannot keep telling my retailers that their orders will be delayed."
It's unfortunate, but this is a daily Inventory Management reality for many CPG distributors. Inefficient inventory management remains a big thorn in the flesh, which leads to friction between the brand and its distribution partners. 
Having deployed the FieldAssist Distributor Management System for over 30 CPG brands covering 12,000+ distributors, we understand the unique pain points of CPG distributors that they loath to tackle, and how an integrated sales and distribution system can address these challenges well. Here are the six biggest issues distributors face in managing their inventory properly.
No visibility of 'stock in transit'
Dhingra ji was unhappy about the 70 orders for Corn Puffies he was unable to fulfil. He had to either ask his retailers to take a different product or ask them to wait, or worse, cancel their orders altogether. If you consider an average ticket size per outlet to be ₹2500, that's ₹1,75,000 of opportunity loss per day, or about ₹50 lakhs of opportunity loss a month!
This happened with one of our customers' distributors in Maharashtra. Thankfully, they rolled out FieldAssist DMS within a few months, which allowed the company's super stockists and sub-stockists to see the status of all their POs: how many have been processed by the company, and how many are in transit, and so on – right down to the product level. This distributor could now confidently tell his retailers exactly when he will be able to send them their goods!
Today, using the FieldAssist DMS, if he gets a demand for 110 pieces, he won't be worried even if he has only 80 pieces in stock. He will acquire visibility on the DMS that the company is sending him 30 more, so he will be able to allocate stock and fulfil more orders. It will also help him significantly improve his monthly sales.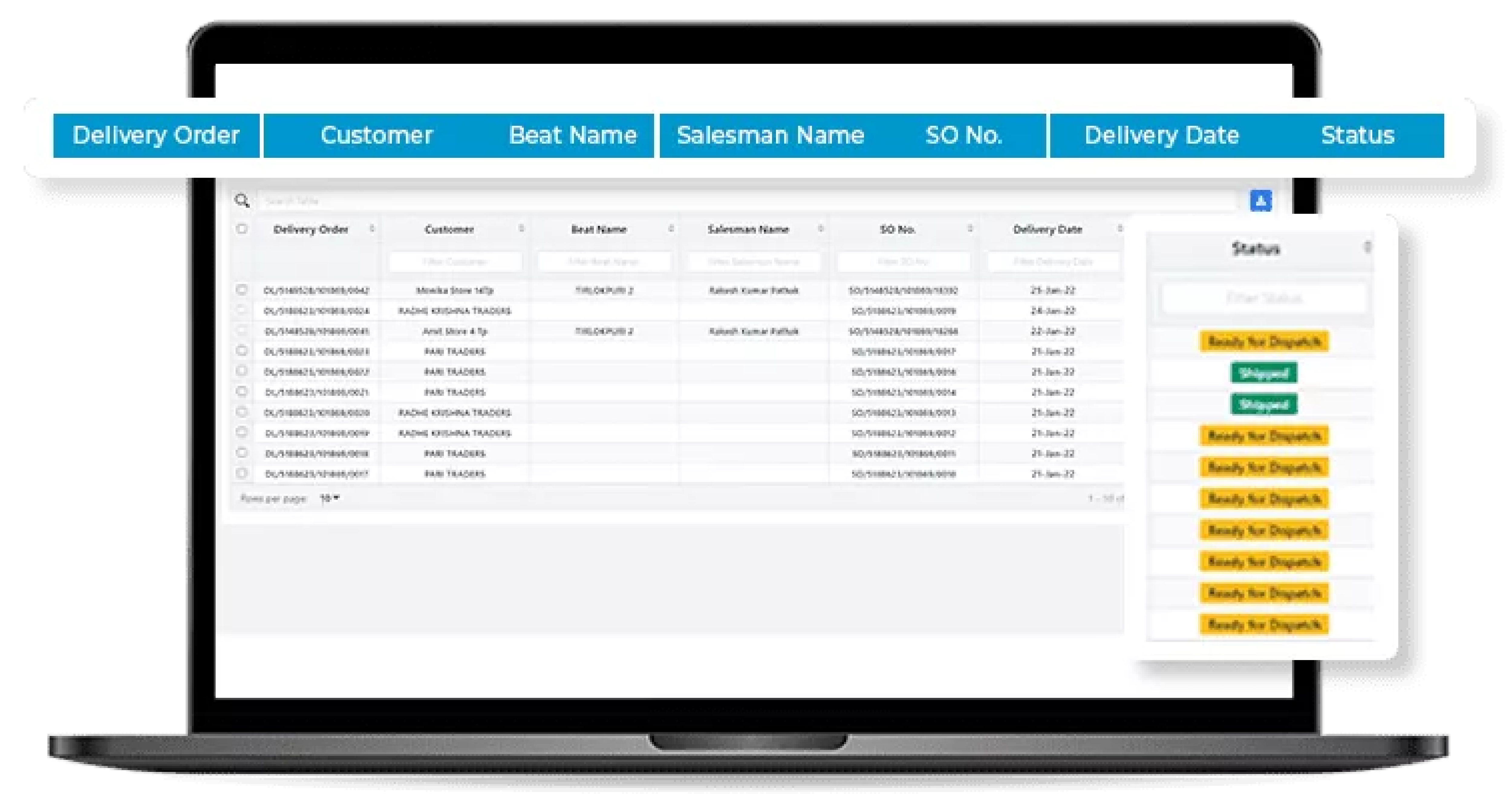 No view on batch-wise stock
Regular inventory audits set the tone for effective Inventory Management and movement of stock. FMCG companies usually perform audits of distributor stock every month end, where the ASM (Area Sales Manager) goes to the distributor warehouse and manually checks the ready stock. This process is necessary yet cumbersome because not auditing the stock frequently leaves room for stock manipulation. One purpose of the audit is to also review batch-wise availability of stock, which is not easy to view on typical financial accounting software. This especially comes in handy in situations where the company needs to take action pertaining to specific batches.
Say a company makes cookies and cakes. The cakes are placed at retailer outlets in January 2023 and their expiry date is 6 months later. However, the distributor starts getting returns on the chocolate chip cakes in March itself because the cakes have gone bad and consumers have been complaining to retail stores they bought them from. When these complaints reach the brand, it decides to dissolve that entire batch and recall all products made in that batch. So how will the company or the distributor know how many products from that batch reached how many outlets?
FieldAssist DMS Inventory Management allows the distributor to view batch-wise status of products, how many of them are in ready stock, how many have been returned, how many are on the way, and how many have been allocated or delivered to retailers. It becomes significantly easier for the brand and the distribution partner to isolate and pull back products faster because they can view the batch-wise information for each SKU.
Calculating current value of stock is tedious
Every 20-30 days, most brands ask their distributors for their stock value, to understand whether they are maximizing the potential of each partner. So how does a typical distributor calculate the value of his inventory? He has financial accounting software such as Tally, where he keeps all records on Excel sheets for Inventory Management. Say a biscuit company's MRP for a glucose biscuit pack in February was ₹10. In March, they hiked the price to ₹12 per pack. If the distributor has stock from both batches, he has to access multiple Excel sheets to assess the quantity and the value of both these batches and then merge the data to identify the total stock value.
Now imagine one distributor with, say, 3 warehouses. All warehouses have their own independent data Inventory management applications. If he has stock from both batches in all warehouses, then it will take his accounts team quite a bit of time to dump data into the same Excel sheet and assess the value.  
In FieldAssist DMS, a distributor can view his total inventory in all his warehouses on the same platform, and see the bifurcated view for each warehouse separately. It also allows a distributor to see all stock quantity and value on a single screen right down to the SKU level, thus removing the pain of managing and updating multiple spreadsheets.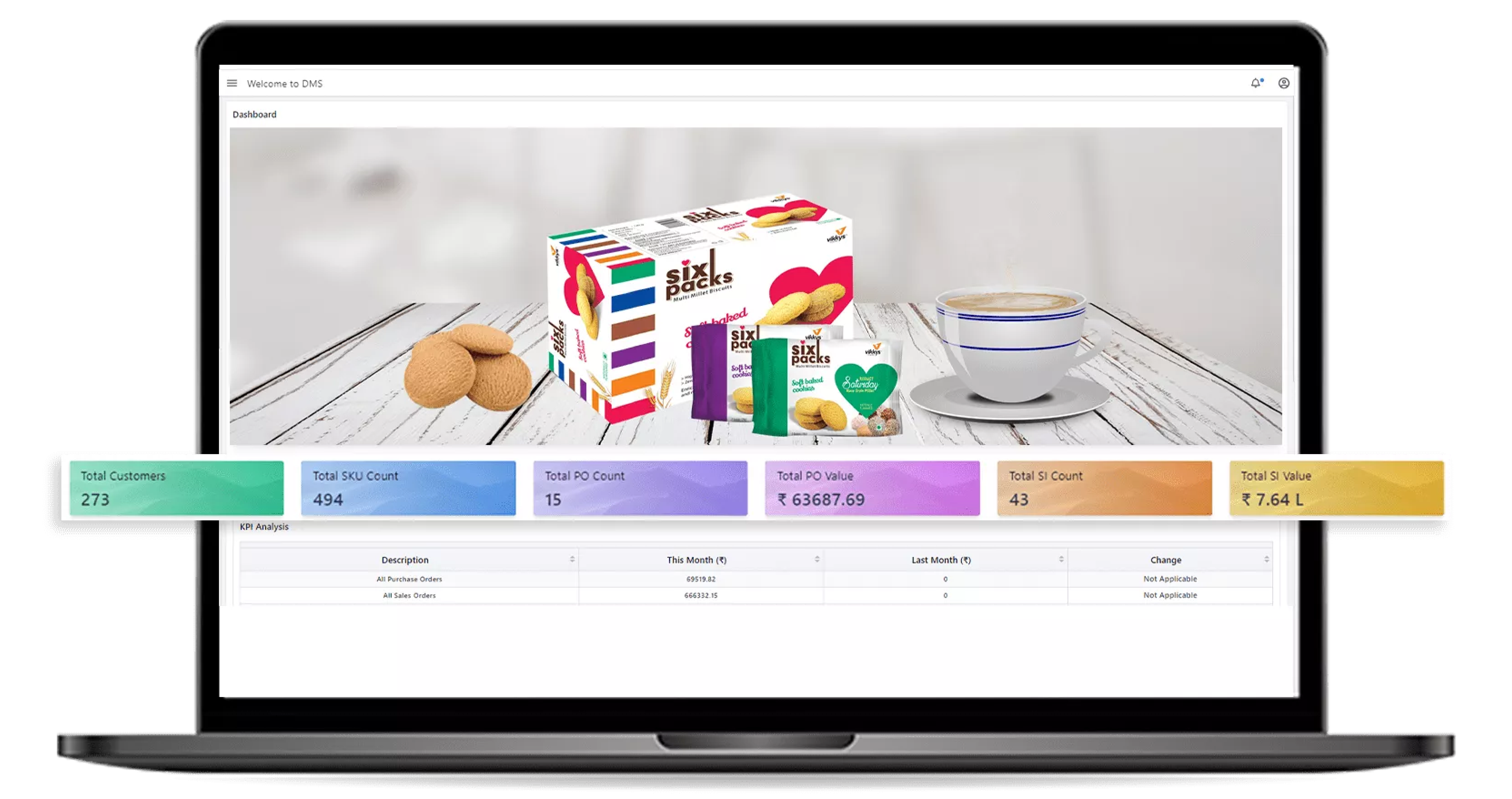 Mismatch between actual and system stock
Consider this example. A distributor for a soap brand in Dwarka lives on the first floor of a building, and his warehouse is in the basement. He does all his inventory management on Tally.  At the start of the month, he has 100 packs of 3+1 soaps in stock. Today a neighbor comes to him and wants to buy a pack of soap. The distributor sells it to him, but this transaction does not get recorded in the system. At month-end, when he reconciles the stock, he realizes he has only 99 packs of soap. He doesn't remember where the 100th one went.
This is one of the most common problems in managing inventory for distributors in India. Hundreds of such unaccounted transactions occur every year because it's not possible for all bills to be cut on the system. While there are many reasons for distributors to not log all the bills, the bottom line is that this leads to a mismatch between what the stock on his system should be (and what the company can see) versus what the stock actually is.
To address this problem of Inventory Management, FieldAssist DMS offers an 'Inventory Adjust' option, which allows the distributor to manually edit the stock. However, this can only be done with approval from the brand's sales team (usually L1 or L2). This mechanism helps complete the loop on the visibility of all bills for both the distributor as well as the company.
Difficulty in managing stock ageing
While stock numbers are always available on the financial accounting software, they do not have a provision for notifying which batches need to move out first. Also, every distributor has his own system of physically storing products, which is handled by a trusted employee – the older cartons may be nearer to the warehouse entrance, while the new stock may get stored right at the back. Say this trusted guy decides to leave one day. The distributor has neither digital visibility (on the accounting software) nor the physical visibility to know which goods are nearing expiry and need to move out first.
With the FIFO (first in first out) mechanism in FieldAssist DMS, the distributor gets digital visibility on the batch and expiry status of all his products, and he can improve inventory management and obtain real-time data on ageing of stock to minimize returns and improve profits.
Lack of comprehensive view on damaged/returned goods
Without automation, it is not possible for a distributor to get a single-screen view of how much stock has come back to him as 'damaged goods' or 'returned goods' from various retailers. He has to go to different screens within the application to access this data.
In the FieldAssist DMS Inventory Management system, the expiry status, batch number, product ERP number, damaged quantity, and returned quantity for every product is available on the same screen. This makes it very easy for the distributor to understand how much of his inventory is 'non-saleable' and cannot be allocated to orders. It also helps him get a snapshot of the value of 'unsaleable' stock for the claims he will need to raise.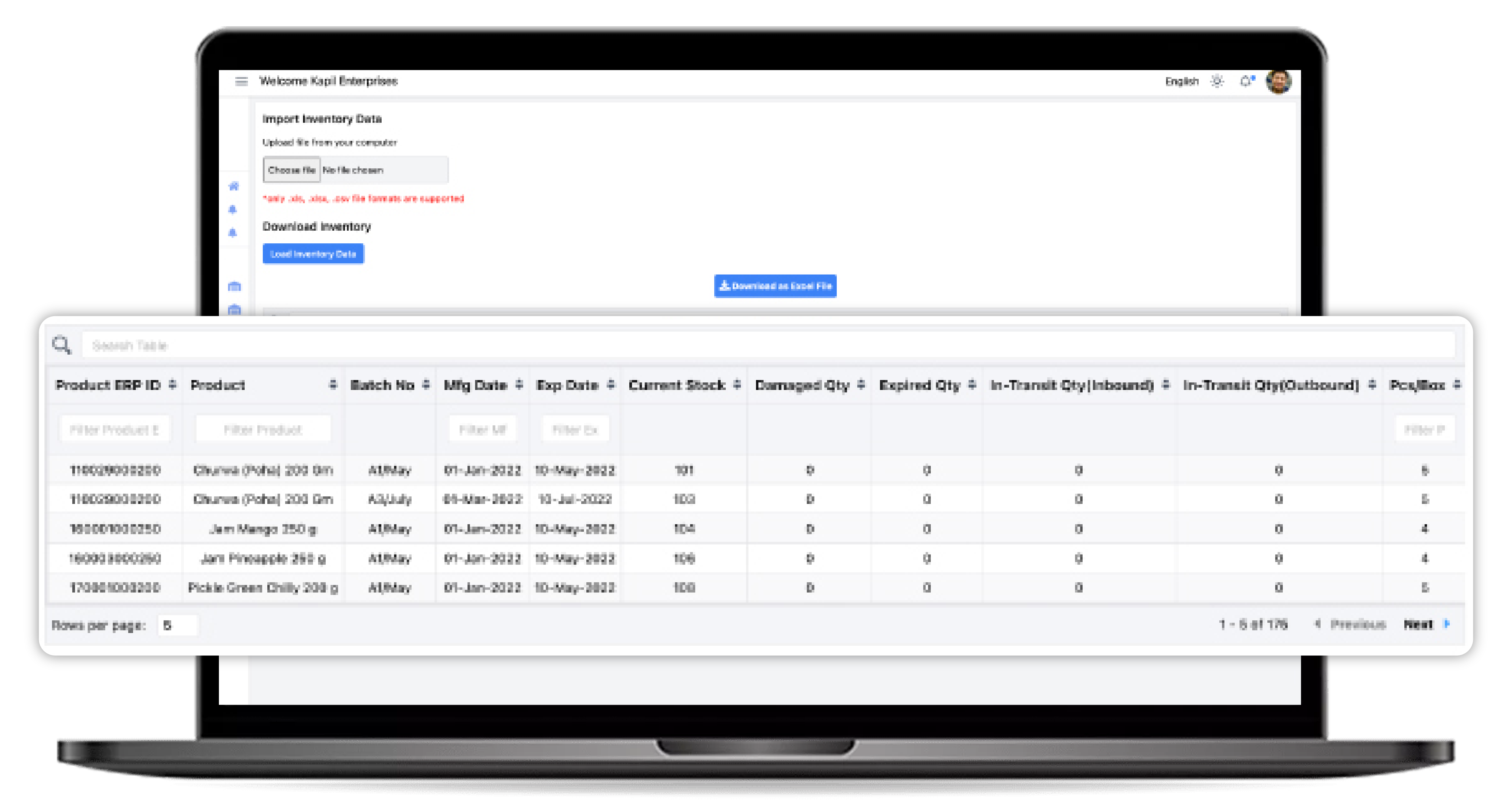 Managing distributor pain points is the first step towards forging powerful relationships with your distribution partners. Make your super-stockists and your distributors your biggest fans – by giving them online DMS software for Inventory Management that's easy to use and brings in huge performance and revenue improvements.
About Post Author