FMCG: Unlocking potential in India's consumer market
Indians are young. The average Indian is barely 29 years old.
And they're getting richer and richer day by day.
All this translates to huge spending power. Especially in the FMCG industry, which is the fourth largest sector of the Indian economy.
Few industries globally are as competitive as the FMCG market. Rising disposable incomes, government policies, changing lifestyles, and increased consumer awareness have completely transformed the landscape from what it was even half a decade ago.
FMCG is the fourth largest sector of the Indian economy. The COVID slump is a thing of the past. The industry is bouncing back with a vengeance – both in urban and rural markets. Moreover, the industry is not exactly cyclical; there's demand for FMCG products all-year round.
And it's not just how much India has covered so far, but how much it has yet to cover. The sector has been on an upward trend since India allowed 51% FDI in multi-brand retail and 100% in single brand back in 2012. Moreover, rising disposable incomes and low market penetration in rural areas hold great promise for expanded revenues. The market is expected to grow around 15% annually for the next few years. 
According to a survey, 29% respondents stated that they spent between 500 and 1,000 rupees on an average during in-store shopping trips. Annual FMCG spending per household is expected to touch ₹20,000 by the end of 2025. 
Technology as a competitive differentiator
Yet, with great potential comes great competition. Consumers are spoilt for choice. Large established brands, both domestic and foreign, are facing stiff competition from established local players. For instance, the rusk segment alone consists of 2,500 local competitors, while nearly 40% of the snacking market is controlled by over 3,000 smaller or regional players.
In such a market, the key to a successful go-to-market strategy lies in a healthy and strong distributor network. One that has both the required breadth to reach all corners of your target market, as well as the depth of penetration and resources to cover it extensively. 
Technology and logistics are two areas where companies stand to differentiate themselves. For the Consumer Packaged Goods (CPG) industry, the line "Technology is a game-changer" is not just a cliché, but everyday reality. 
How to increase efficiency and decrease costs
Conventional or offline solutions fall short of the level of automation demanded by today's supply chains. This is what makes a Distributor Management System (DMS) absolutely indispensable for CPG companies. It represents not just a technology point solution, but a complete business transformation, with little change management required.
A cloud-based, always-on system can help you become more efficient in your business operations. Activities that used to take months would take mere hours. Activities that would require you to hire, on-board, and train multiple employees or contractors would be fully automated – literally at the click of a button.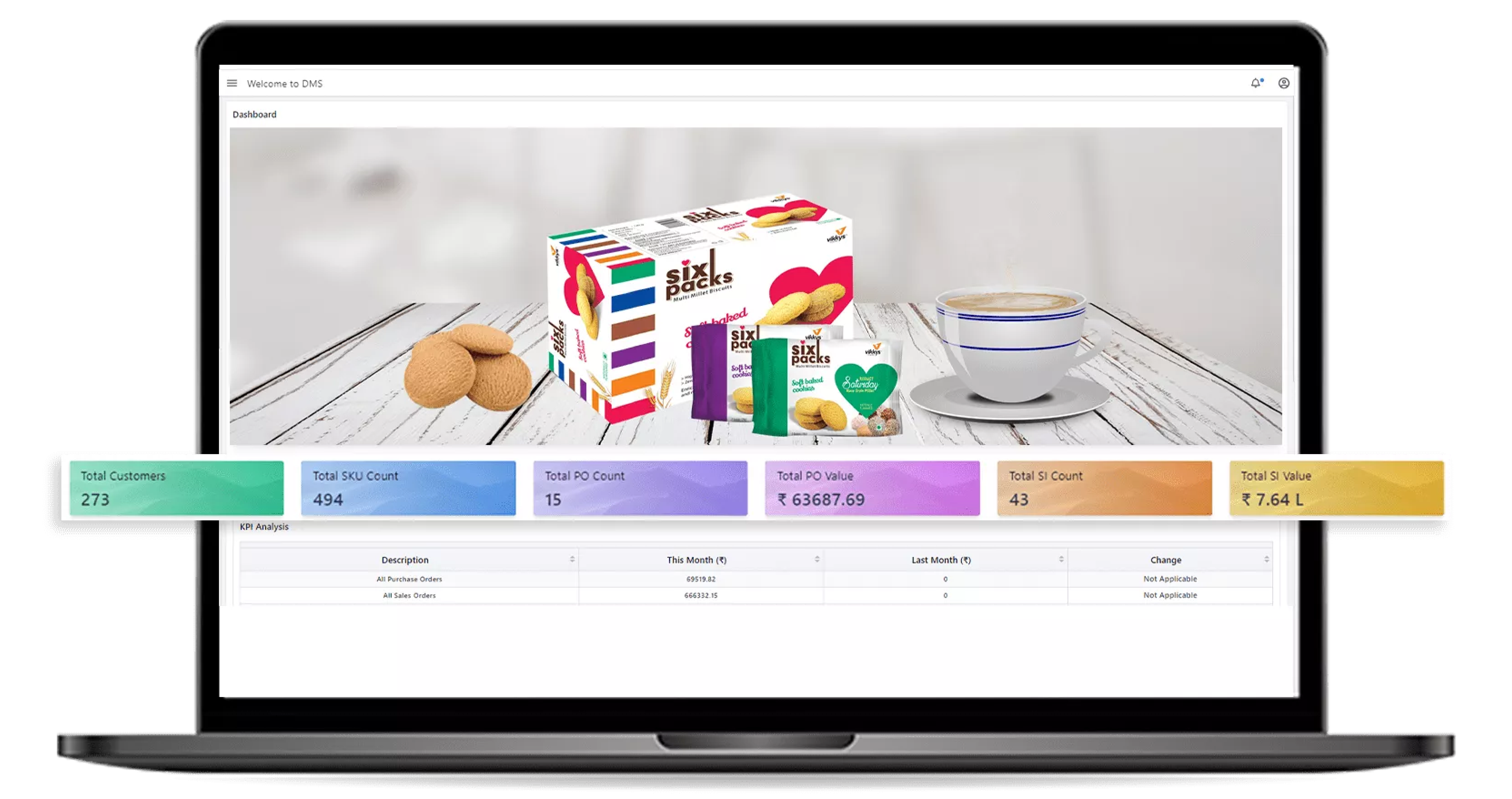 Reasons you need an online Distributor Management System
Distributor Management System (DMS) aids businesses in effectively overseeing their supply chain and distribution network, ranging from inventory optimization to offering comprehensive insights into secondary sales data. Here are 7 specific ways in which DMS makes your life exponentially easier:
Claims are processed much faster:

Without an online cloud-based system, claims management and processing involves a lot of back and forth, with multiple checks and possibility of errors. DMS automates, simplifies, and streamlines all this. A DMS can also integrate directly into the brand's ERP system, thus making claims processing even faster.



Reduced time for invoicing:

Raising and settling invoices simply shouldn't be as time consuming as it does today. With a good online DMS, you can raise up to a million invoices every single day.



Real-time inventory visibility:

With a DMS, you can literally track your products as they move through the market – including secondary sales. You can determine which regions have more demand, which regions have less, which distributors are working, and how much, which regions need more support, whether schemes and promotions are being followed, and so on. You can run advanced analytics on the raw data and run reports. 



Track distributor performance

: Know which distributors and regions are the selling more or less. This helps you prioritize distributors and align resources, promotions, and incentives.



Auto stock replenishment system (ARS)

: Never run out of stock. With Machine Learning and AI, an online DMS with ARS can predict future demand for a particular product based on past sales. And when the product is about to go out of stock, it automatically places an order to replenish it. This essentially eliminates the possibility of a stockout situation.



Manage and track schemes

: Know which schemes and promotions are in demand in the market. And whether distributors are complying with them. Obtain scheme-wise statistics and analytics.



GST Compliance

: Comply with all GST rules and invoice formats in one click, and generate reports with different datasets and formats. A good online DMS will integrate easily with your preferred GST billing solution and enable you to generate E-way bills and E-invoices.
A DMS is not merely central to your Supply Chain and Sales Force automation strategies. Today, DMSs go beyond just Keeping The Lights ON – they can actually be business drivers. Technology can indeed be a game changer, and this technology can help you change your game and win it.
About Post Author