These two statistical screenshots speak a thousand words for the stakeholders of the Indian FMCG Sector. COVID-19 – the worst nightmare of the entire world has been wreaking havoc for the past few months; be it human resources, healthcare services, economy or international trade. With people dying across the globe and even the top economies being crushed to their cores, redemption seems just like an unattainable mirage. 
Indian FMCG sector is yet to see its worst as the traditional business models are going to become unsalvageable and businesses are witnessing a sea of change in consumption and demand patterns. 
Though the situation seems murky, the Icra ratings gave us a glimmer of hope with its prediction of a 2% rise in the Indian Economy in FY-21.
Take a look at the projection of World Economy Status that is being compared with the Great Depression.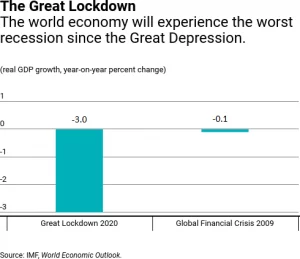 What is the current scenario?
Analysis of Various Sectors
The primary processing businesses like dairy, vegetable oils, and bakery, etc.. faced a 20-25% hit. The secondary processing sector like chocolates, cheese, and sauces, etc. is even worse because people are conserving cash. 
The business landscape in India is going to evolve in the days to come with a shift towards localization and variable cost models. Digital revolution and building agility are going to be pushed down the business models that are currently being revamped. 
Forbes India describes the Indian economy as a patient on a ventilator. 
Worst hit sectors in India are restaurants, tourism, entertainment, retail, and aviation while three sectors remain unscathed as of now – healthcare, telecom, and insurance. 
Indian FMCG – Ups, Downs, and Projections
But there is another sector that is crucial and requires a rethinking of its business models – FMCG. Though the current FMCG sector has seen volume gains, the future has a lot of uncertainty. 
Most of the experts are calling the Lockdown 2.0 a reset button for the FMCG Sector.
With the onset of summers, the demand for summer drinks is on the rise, apart from the essentials and snacks. As the availability of workers is still a challenge, FMCG companies hope that the government approves of longer work hours to meet the increase in demand. 
While we talk of this increased demand, the scarcity of imported raw materials is sending the production units on a hiatus. Take a look at the trends from the Export-Import Data Bank that were recorded in the latest KMPG study.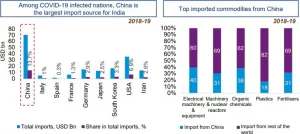 To meet the shortage of workers, e-tailers, retailers and essential goods manufacturing units are planning to recruit the migrant workers that are stuck in big cities and are among the worst-hit stratum of human society. 
Questions that need to be addressed:
So, what is the future of the FMCG sector in India post lockdown? Which brands are going to gain more value? Which brands are up for huge losses? What are the innovation imperatives for the Indian FMCG sector and which is the right option to overcome this situation – digital innovation or digital disruption?
Let us explore answers to all these and many other questions in the following discussion.
What are some of the worst fears of major FMCG brands?
1. Panic buying drives rapid restocking.
Panic buying is crunching the FMCG companies to restock the stores and mitigate consumer demands. While the government has made stringent moves to curb this chaotic movement of panicked customers, the surge is pressurizing for increased manufacturing and restocking. 
Experts advise FMCG companies to focus on: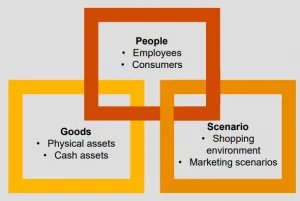 Take a look at the following data that shows the sales growth patterns for various sectors in a week-wise manner: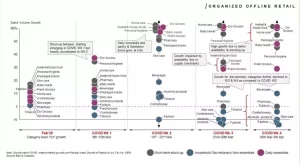 These trends show growth in the sale of instant and frozen foods and dry groceries as well. 
Fear:
The surge is temporary and cannot make up for the losses in the first two-quarters of FY-2020.
2. Automation is lacking and entirely absent in some industries.
It is at times like this that businesses need automation and remote processing the most. However, automation and remote processing are high investment zones, and India has abundant cheap labour.
Fear:
While most of the Indian FMCG units are in a scenario-planning phase, the crisis lifelines like automation and remote processing are still a long term goal that might span over half a decade or even more.
3. Supply chain reinvention might not come easy.
Supply chain reinvention is one of the most empowering strategies to overcome the crisis scenario and reinstate the business processes. However, with many Indian FMCG companies depending on imported items for packaging and containers or container parts like pumps, etc., the future is uncertain.  
Fear:
Mass production and mass consumption of packaging and container parts like pumps etc. for hand sanitizers etc., combined with the ban on imports has made it almost impossible to reinvent supply chains for many months down the lane.
While we are looking for a digital revolution to finally set-in in the Indian FMCG sector, which one is the right choice – innovation or disruption? Let us find out.
Digital Innovation vs Digital Disruption – Which one to choose and why?
Digital Innovation to the rescue:
Indian business landscape is still reliant on human resources and digital disruption is still a long way to go. Automation is still mainly in IT projects and automated manufacturing and processing units are still largely a thing of the future.
So, digital innovation still is a better option than disruption.
Indian companies are still thriving on a human-intensive model, while the major economies are driven by disruption. 
However, the latest FMCG technology trends such as sales force automation, analytics, logistics and enterprise mobility have marked the beginning of a paradigm shift in the Indian FMCG sector.
Hence, while disruption is still far away, digital innovation can offer many salvaging way-outs to gains after lockdown 2.0.
How to deliver and rise above the occasion post lockdown?
1. New Hiring and focus on rural:
New hiring and product baskets can steer FMCG companies towards gains post lockdown. Many companies have experienced a shortage of skilled labour with migration. New hirings can help pace-up the manufacturing speeds for companies offering food items like packaged snacks with an attractive valuation.
Experts are projecting that rural sector revival will be faster as compared to the urban sector post lockdown. The Rabi crops have been impressive and govt. schemes such as MGNREGA and PM Kisan Samman Nidhi Yojana are also going to contribute in this regard.
2. Focusing on People.
Ensure the basic income of your employees, provide a flexible and safe work environment, and don't undermine the career development of your employees.
On the consumers' side, enhance their trust in your brand, keep their panic in check by offering critical information regarding products, stores, and stocks, and stimulate their purchase intentions by employing digital innovation.
3. Focus on Goods.
Strengthen your upstream and downstream alliances, refine funds planning, and reduce operational costs, to begin with. Optimize your supply chain and process your inventories in an active manner. Consultation with govt. For supportive policies and timely replenishments are some of the keys that you must take into consideration.
4. Customer Experience.
Create a safer and more supportive customer experience by stating the safety measures and upgrades you have done. Accelerate your online transformation and diversify marketing strategies with digital innovation to make sure your customers stay with you.
Final Verdict:
It is a given that the impacts of COVID-19 will take a considerable time to erode from the markets and consumer's minds. The FMCG companies need to take it as a challenge and turn it into opportunities for better business models, the introduction of automation, digital innovation and supply-chain reinvention to rise as the leaders of a new India post COVID-19.
As per the expert reviews, India is predicted to capitalize on the decline of global food production units in Europe, Australia, and the UK, while companies focus on India to fulfil the demands for processed food items. Further, it is being speculated that companies will shift their manufacturing or production bases from China to India that can prove a handsome source of FDI.
About Post Author