I just could not sleep that night. Tossing and turning over and over again, I could only see that hamper flashing in front of my eyes. I was sorely regretting not buying it, wondering, "What if it's already sold out? "Why didn't I pick up the hamper when it was within my budget ?"
So keeping my fingers crossed, I went back the next day and bought two boxes! I am sure by now you would have understood how big a shopaholic I am. 
Well, let me tell you what happened exactly. Last week, while I was out for a stroll in a market, I stumbled upon a very creative beauty hamper. Right when Holi is around the corner, this beauty brand smartly created a Holi hamper with custom-made organic and chemical-free hair masks, body scrubs and sunscreen for its consumers to have a toxin-free Holi. I thought that was a very well crafted package, because, for Holi enthusiasts like me who worry about post-Holi skin effects, this was a godsend.
If I look back, there are so many things that illuminated this entire experience for me: 
The

Product Relevancy-

given the importance of this festival in my city 

The

Affordability-

which meant they had done their homework to understand the pockets of their customers.

 The

Brand Loyalty-

I loved their products, so I went back to get some more.

The

Availability-

I cannot tell you how thrilled I was to see those specific combo packs at my favourite outlet!
But how did they align their distribution strategy to strike success in their secondary and tertiary sales? The kind of technological wizardry this brand used to sidestep all the sales and distribution challenges. If you are the founder, CEO, or Sales Director of a beauty industry and wellness company, I'm sure you would have even more concerns like  How can I gather accurate, real-time market information to achieve similar customer delight? How can a unified technology solution make my teams more productive to ensure the right products reach the right customer in the right geography?
A McKinsey report on the beauty industry that I read recently noted that COVID-19 has put considerable pressure on brands to overhaul their product-innovation pipelines. Across the industry, the pace of innovation suddenly accelerated for traditional retail beauty companies, inspired by the ability of digital-native direct-to-consumer brands to go from concept to shelves within a few months. Some companies posted substantial growth numbers despite the pandemic because they quickly pivoted their strategy using solutions that could help penetrate their products in all distribution channels, whether in-store or online. I'm guessing the start-up beauty industry brand that I bought would have had the same kind of help.
As someone associated with a Sales automation Industry, I know that it requires a solid technology backbone to create this degree of 'Customer Delight,' something we have been consistently delivering for our personal care and beauty industry clients. The FieldAssist Sales solution is tailor-made for the beauty industry, keeping in mind its unique distribution challenges and the vast number of SKUs. We work along the entire size spectrum- from burgeoning start-ups like MamaEarth, to established brands like Revlon and Biotique – to help them achieve quantifiable efficiencies like: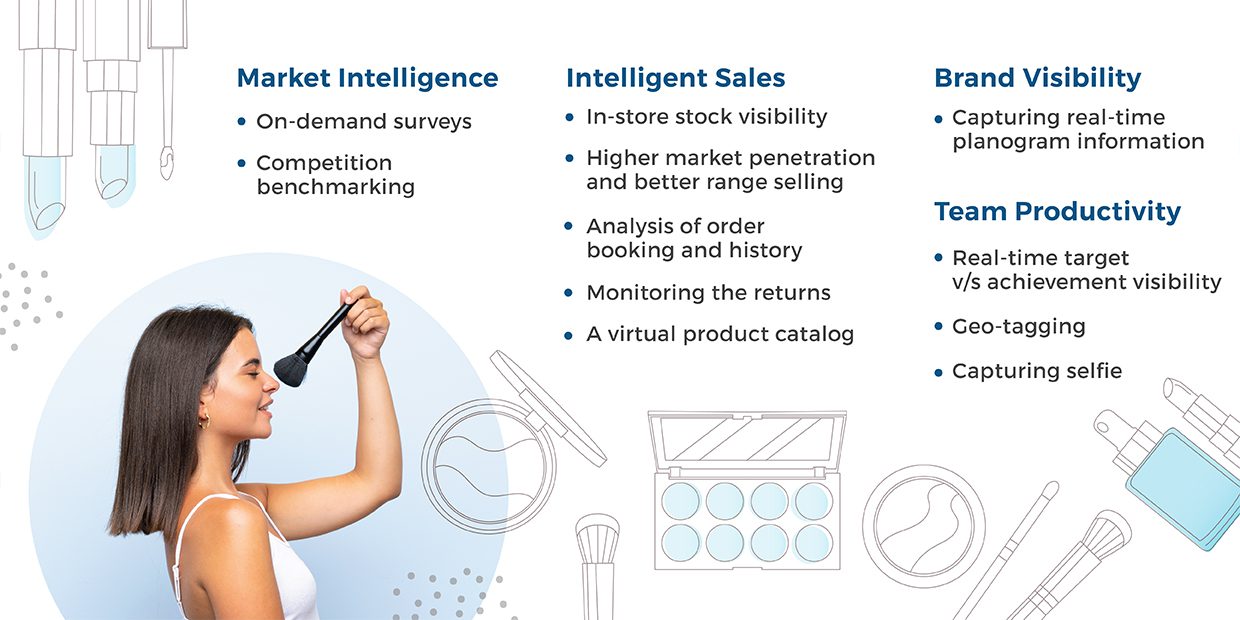 Market Intelligence:
On-demand surveys

. E.g., feedback on new product launches, assessing own performance against the competition, product complaints, volume of footfall at the store, effectiveness of POS and marketing collaterals, etc. 

Competition benchmarking

with real-time in-store capturing information of different competitors.
Know More: Capture outlet realities, competitor activities and customer preferences with in-app surveys with Market Intelligence
Intelligent Sales:
 In-store stock visibility

and inventory tracking to help brands deliver across General and Modern trade channels. 

Higher market penetration and better range selling

via digital maps and heat maps. 

Analysis of order booking and history

by different shop types like Salons, Chemists, Beauty Shops, Kirana Stores, and Departmental Stores to identify patterns in booking behaviour.

Monitoring the returns

of damaged, expired, and 'close to expiry' products from the stores.

A virtual product catalogue

with a comprehensive product description and repository of over 1000 SKUs to help retailers place their orders quickly. 
Brand Visibility:
Capturing real-time planogram information

on the app

to have effective display arrangement and maintain maximum in-store visibility of hot selling SKUs for the walking customers.
Team Productivity:
Real-time target v/s achievement visibility

by the mid-level for their on-ground team with analytics

Geo-tagging

of Business Advisors and In-store reps to track attendance and performance.

Capturing selfie

of business advisors to maintain adherence and ensure a code of conduct.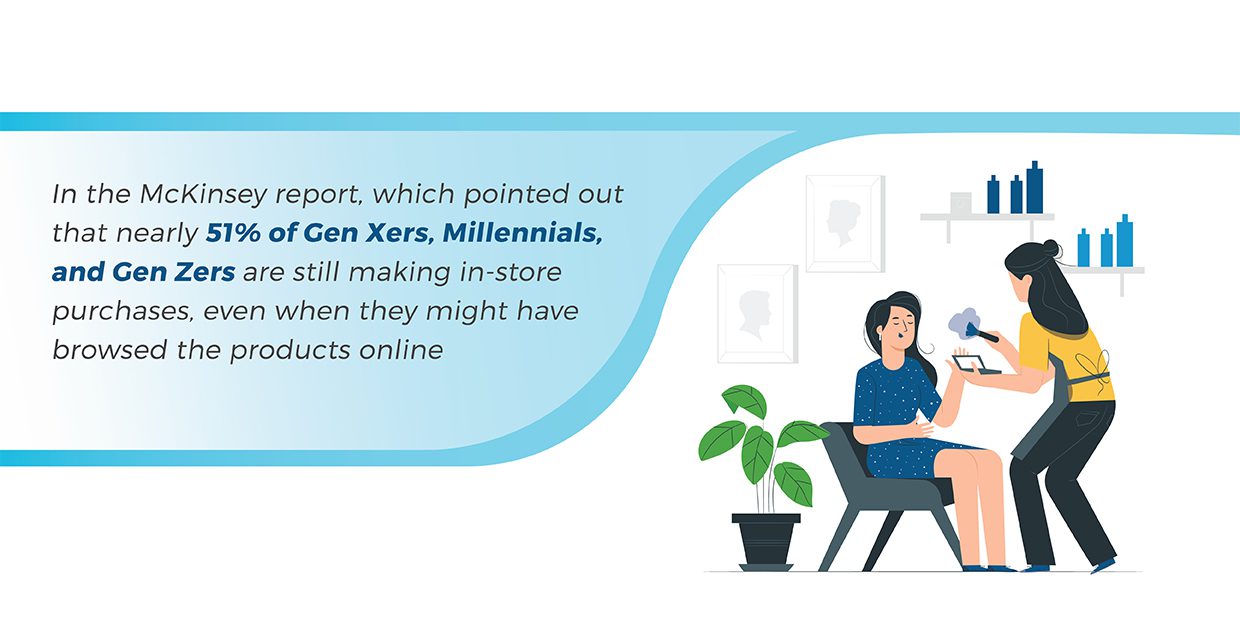 I have been observing the growing interest in self-care and socially responsible beauty industry trends that have catalyzed the evolution of deep product verticals within the Indian beauty industry. It's not surprising since the personal care and cosmetics industry is projected to be worth $25 billion by 2025. I caught an intriguing statistic in the McKinsey report, which pointed out that nearly 51% of Gen Xers, Millennials, and Gen Zers are still making in-store purchases, even when they might have browsed the products online. 
Given this massive potential for personal care retailing, beauty industry brands are rapidly adopting sales solutions to get closer to their customers. Brands like Modi Revlon, Lotus Herbals, Biotique, MamaEarth, Bombay Shaving Company, etc., have been using precise intelligence and actionable insights from their Sales automation solution to increase their market penetration by 20-40%. 
Today, nearly 65% of Indians are less than 35 years of age. The sheer potential for beauty industry brands to create a niche for themselves is enormous. If there ever was a time to look at seamless automation for a faster supply chain, it is now. Because there is no denying how quickly the beauty and personal care space is contouring and highlighting its way to a multi-million dollar industry.  Is your beauty brand missing in action?
About Post Author