Africa – The Rise of the Lions
With the consumer expenditure expectations to cross $2 trillion by 2025, Africa now ranks among the fastest-growing consumer markets in the world. Its household consumption has exceeded its GDP in recent years and the annual GDP growth beats the global average as well. As far as venture capital (VC) is concerned, Africa continues to be a darling of global investors in fintech and tech startup zones. 
With more internet penetration, tapping of the unbanked population, the emergence of cross-border financing and mobile money platforms, Africa's growth is shooting up. 
The continent is now undergoing rapid urbanization, population growth, increasing affluence, and the financial inclusion of earlier unbanked population pools.
All these factors have presented exciting opportunities in the retail and distribution sectors of Africa.
African Market – Future Projections and Market Speculations
Market speculations and industry leaders of Africa put their bet on the Fast Moving Consumer Goods or FMCG (aka CPG) sector. Recent studies suggest that Africa is going to show the fastest growth in the sector, especially in the food and grocery retail segment. 
Also, this transition to the modern retail format is going to fuel the growth in the continent. The growing middle-class population is also going to be a major contributing factor for the expansion of the food and grocery retail industry of Africa.
Before we dive into the deeper straits and discuss the various opportunities and best ways to lead the African CPG industry, let us take a quick look at the various challenges in the way.
African CPG Industry: The Challenges
1. Political Instability and Conflict
The world freedom indices report that out of 54 African countries, only 10 are considered free, and 22 are only partially free. A huge remainder of 22 countries continues to be subject to war-torn conflicts and political instabilities. 
Takeaway
How can CPG brands expand in the regions where survival is a question?
2. Linguistic Diversity
Excellent marketing involves heart-to-heart communication with the customers and optimizing recommendations and products as per their preferences. However, with 11 official languages in Africa, and more than 500 local languages in Nigeria alone, creating effective marketing campaigns becomes tough. 
Takeaway
Regional customer targeting becomes excessively costly when CPG brands have to personalize heavily.
3. Differences in Consumer Behavior 
African customers are split not only over the languages but over the brands, pricing and purchase decisions as well. McKinsey reports that only 27% of Kenyans use advertisements and comparison shops for getting the best prices, but this percentage is extremely high in Angola!
Takeaway
When brand opinions and shopping behavior vary by region, targeting and selling become a Herculean task. 
4. A Fragmented Retail Market
The majority of Africans buy groceries from neighborhood kiosks, or small stores, whereas 75% of grocery sales in South Africa are from supermarkets. 
Takeaway
With a highly fragmented retail market, brands find it hard to position themselves and strategize on large scales.
5. Poor Infrastructure
Stats report that only one-third of Africans live within 2 Km of paved roads that are serviceable all around the year. Also, 70% of the population is still devoid of electricity and traveling is eight times more expensive as compared to the other countries (Source).
Takeaway
With such poor infrastructure, customer demand becomes negligible and there is no scope of supply. 
6. Low Data Availability and Quality
Except for the large cities and only a few countries, there is a huge dearth of data pertaining to market and economic research. 
Takeaway
With no access to reliable and accurate data, there is no way CPG brands can plan their sales efforts and track their assets without extrapolation and incurring losses.
Alarm Trigger: With such consequential challenges to the business expansion and brand positioning, what can the CPG brands do to grow? 
Let us explore the answers in the following sections!
We begin with an understanding of the African CPG Industry and customer trends first.
What do Leaders think?
Willy Kruh from KPMG International said, "While the African CPG market is not without challenges, it is the greatest opportunity facing retailers and brands in the world."
PierreAndré Térisse, Danone's Executive VP for Africa says that successful companies in Africa don't necessarily have incredible products necessarily, but they have a level of execution that is very, very good.
1. Urbanization and Earnings
A recent study by KPMG suggests that 50% of Africans will be living in urban areas by 2030, and by 2060, the middle-class population (people earning between the US $2 to the US $20 per day) will grow to 1.1 billion. 
Now, when a consumer with an annual income of US $1000 a year can purchase a wide range of products, when the purchasing power increases, he would buy non-food products as well. 
For example, take a look at the following screenshot of annual earnings in various parts of Africa:

Some of the most billable categories in the non-food segment are beer, soft drinks, toiletries, and prepaid mobile phones. 
2. Exposure to Media
With access to various media resources, such as the internet, TV, and mobile phones, people are getting exposed to different cultures. They are aspiring to enhance their lifestyles and looking beyond the basic survival FMCG goods. 
3. Technology
As pointed in the opening, VC investments in fintech and tech startups have fueled the technology sector of Africa. The people that never ever had a landline phone are now using smartphones for digital payments and mobile money, causing Africa to leap-frog the technology.
Take a look at a visual representation for a better understanding: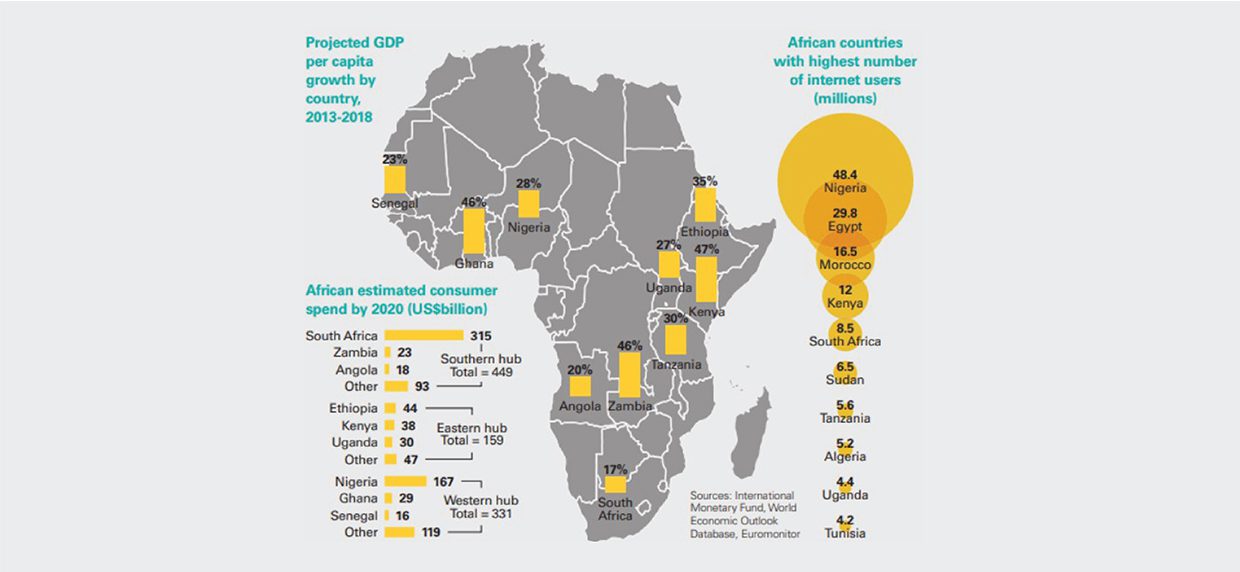 This makes Africa's technological and digital transformation way different from the rest of the world. 
4. Hybrid Offerings
Well-established CPG brands in Africa are leveraging technological innovation to broaden their offerings. One epitome is the retail companies foraying into the banking sector by allowing customers to deposit and withdraw cash using tills in their stores. The transactions are allowed across various locations and even countries, which definitely puts Africa on the list of the topmost countries for hybrid brand offerings. 
Further, Africa is a resource and agriculture-rich business zone that offers certain operational efficiencies to the global brands for expansion. 
Understanding the Business Dynamics of the African Market
When we talk about the location of the major customer clusters, we have:
Nigeria

Egypt

Kenya

Zambia

Ghana
As far as FMCG goods are concerned, Africans consume ready-to-eat or packaged food more than homemade food. Further, rice and dairy products are heavily consumed. So, the continent offers a huge market for SMEs and operations in the processed food segment of the FMCG sector.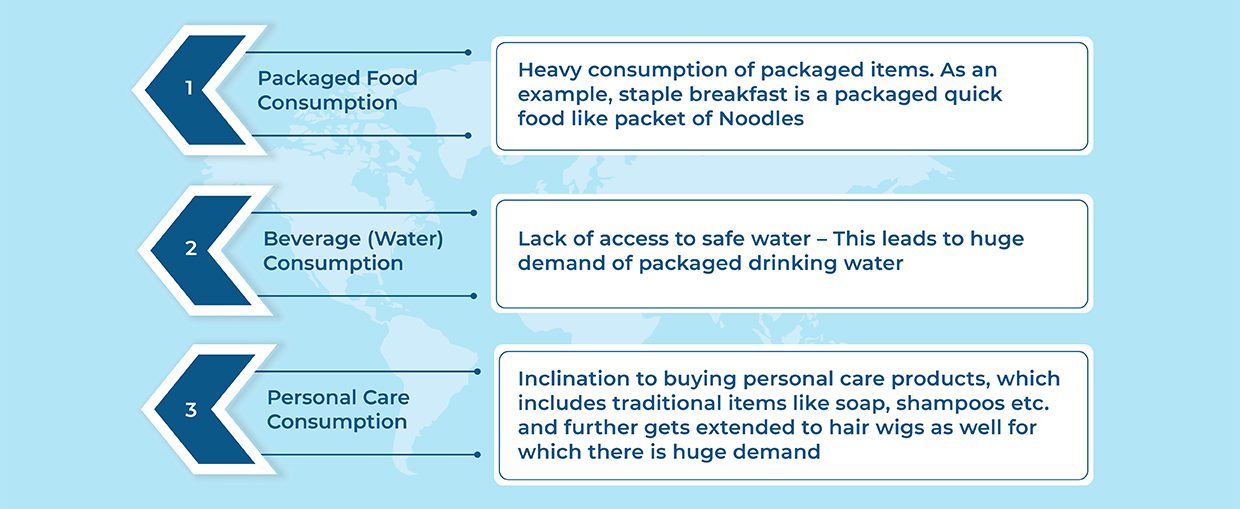 With a huge demand for processed food, the number of manufacturing units is also shooting up, which has spurred the growth of supply chains and supply chain jobs. 
However, customer success and business excellence cannot be unlocked by manual efforts; especially in challenging markets like Africa. 
 Intelligent market expansion in Africa's FMCG sector requires:
Tailoring the brand offerings as per the local needs and preferences, as per the size and commercial viability of a market or a region.

Creating bespoke marketing, supplying, and selling models as per the channel and geographic constraints of a market or region. 

Build a sales force that is smart, reliable, well-equipped and large enough to deliver across the business goals.
This calls for a more rigorously planned and carefully crafted business and marketing approach, that forms the subject of our next section. 
How Automation and Technological Innovation can Spur Growth of African FMCG Companies?
By now you might have understood that creating a market for your brand in the challenging landscape of Africa, is nothing short of a battle. A battle against the geographical odds, infrastructure odds, and general public perception odds – and winning this battle would require a careful battle plan and the right arms. 
SFA and advanced analytics are a powerful duo that will help you ace this battle with their immense functionality and impeccable applications.
Let us begin with understanding the geographical scenario of Africa with respect to automation offering
The entire South African market can be divided into two distinct zones – North Zone and South Zone. 
While the North African countries are considered developing countries, with a supply chain scenario on the similar lines with India, the South African Countries are relatively poorer and people are less educated. 
Such demographics have affected the market as well, with limited spending capacity,  negligible technological adoptions, and Van Sales being a market norm.
Another point of importance is the governance of supply chains. They are usually governed by people of Indian ethnicity. 
Take a look at the visual representation below:
With stark market differences, a difference in the process flow of South and North African countries is expected, and evident.
Key Challenges of Growing It is likely for a sales rep to run away with the company vans or cash.
Lack of an easy and reliable way to coordinate with the vendor team.

The lack of proper education and technology exposure makes it even more

Countries

End users might not have a personal phone and there might be some aversion to using the personal phone for official work.

difficult to understand the complex market and supply management tools.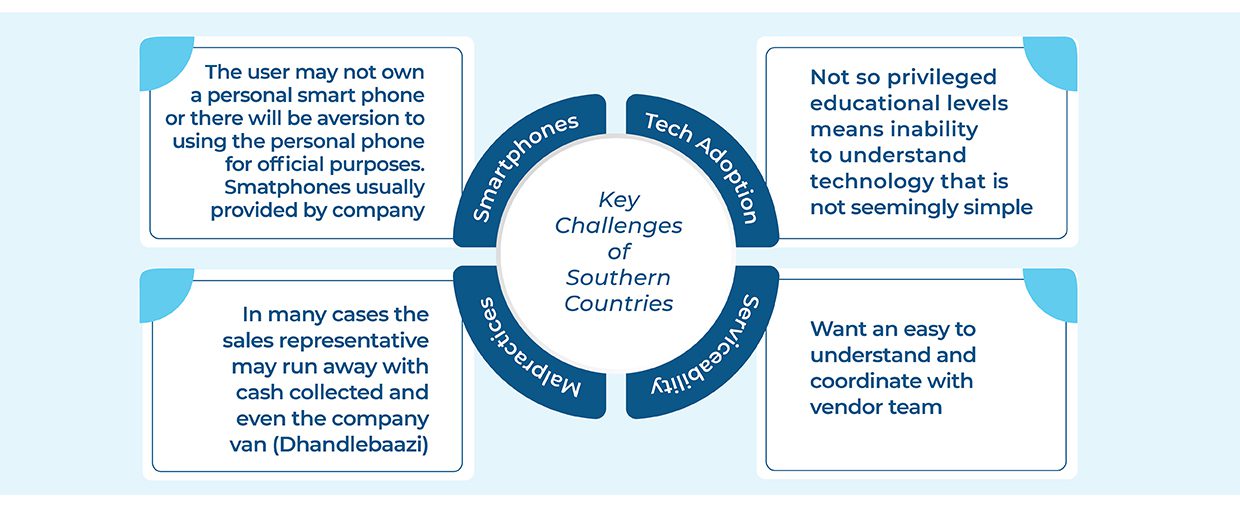 Tackling the Challenges – One at a Time
While full-blown sales automation and smart workplace technologies are already in place across the FMCG brands across the globe, they are still grappling with the same in Africa. 
Succeeding in a challenging market like that of Africa requires sales and market intelligence that overrides the challenges. 
Hence, the smart automation tools must deliver across the following five problem areas: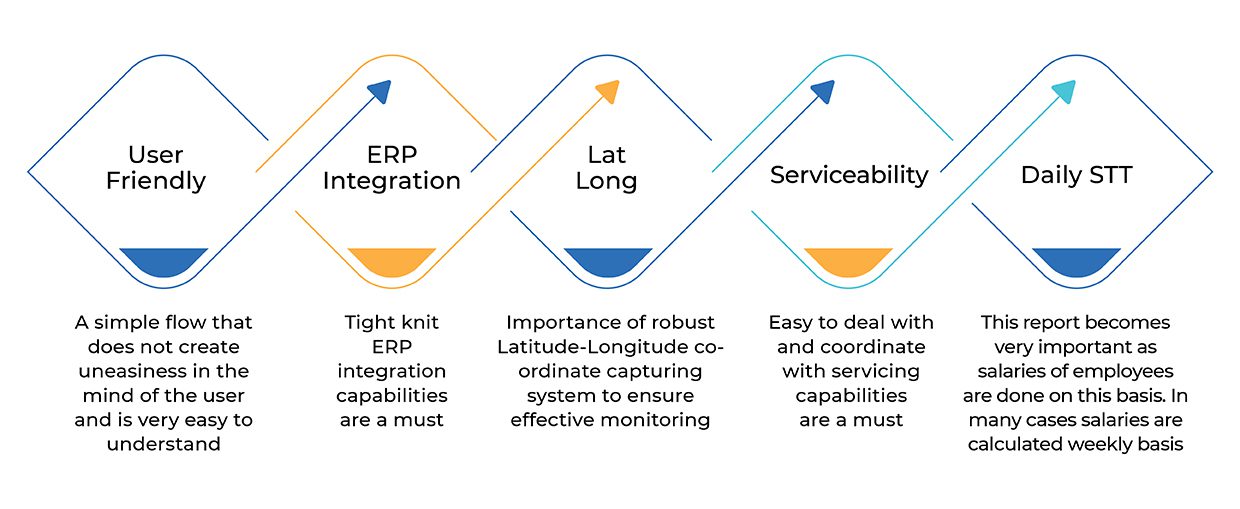 1. User-Friendly Interface
The UI/UX experience must be great and operation of the automation tool must come with a negligible learning curve. This way, the sales reps with nominal education or little exposure to smart software also don't find it hard to use the tool with ease. 
The options for order collection, SKU-specific queries, tracking, time logging and order history must be readily visible and the overall complexity should be negligible. 
2. ERP Integration
The automation must have impeccable ERP capabilities that impart efficiency to the work and streamlines the operations. 
3. Lat-Long Efficiency
The  Salesforce Automation tool must also offer features such as Geo-fencing for impeccable coordination across the latitudes and longitudes. 
4. Serviceability 
With the obvious market and talent constraints, it is important for the sales automation software to offer easy coordination capabilities, and offer a great degree of serviceability. The functionalities and features must be such that the tool offers value to both – the management and the on-field sales reps. 
5. Daily STT
Daily insights into the number of targets covered by the sales reps, such as:
Number of outlets covered

Number of calls made in the first half of the day 

Type and number or type of products for which the orders were placed, etc.
These daily insights are highly crucial because they are used to calculate salaries, incentives and rewards etc. The daily performance tracking also ensures a tight grip over all the on-field happenings and makes the salary calculation easier. 
An excellent example in this category is the Tolaram Group that witnesses an exceptional growth in breakfast cereals and noodles sales in Ghana with Sales Automation from FieldAssist. Earlier, the brand lacked visibility on sales team productivity and availability of complete and actionable market data. It wished to increase the van sales efficiency and expand smartly across the globe. 
While the absence of market data was definitely a major woe, the COVID-19 lockdown marked a gloomy period for the brand, like many others. 
FieldAssist's smart automation helped the brand achieve:
Improved Sales Team Productivity

Streamlined Sales Supply Chain

Upgraded Van sales efficiency

Real-Time Data Visibility to Mid-Managers
Unlocking Success in the African FMCG Industry: Get the Right Arms for the Right Victory
Since the FMCG offerings are largely similar, the brands have to face fierce competition in terms of pricing as well. Thus, the margins are squeezed to a minimum, and getting pushed out of the business is extremely plausible. 
You have to convince the consumers to purchase your goods with a different and more appealing value proposition without necessarily offering lower prices.
Some of the key strategies for the same would include:
Loyalty programs

Improving the shopping experience

Personalized advertising and promotions

Offering smaller packages to make your products more affordable and commercially viable in the local markets
We agree that the African market is challenging, sometimes even beyond your expectations and market forecast studies. But, the greater risk is not being there, and missing out on a fantastic opportunity of being a brand loved by thousands of Africans, before the competition gets there!
Adopting and embracing smart Sales Force Automation and Analytics tools like FieldAssist not only puts you on the frontline but also equips you with the right set of arms to win the battle. For more information, schedule a product demo today!
About Post Author