New Products, New Customers, New Positioning:  How 2022 became spectacular for us.
You all must have heard the story about Prince Arjuna and the Eye of the Bird. When Dronacharya takes the princes for target practice, he asks Arjuna, "What do you see?" Arjuna doesn't say, "I see a branch, I see the swaying leaves, and amongst them I see a bird sitting on the branch. No. He says "The only thing I see is the eye of the bird."
For FieldAssist, 2022 was that kind of a year. Our one point of focus was to achieve high customer delight. Coming out of the tough pandemic years, we know every FMCG company was trying hard to restrengthen its market presence and be closer to its consumers. So for us, 2022 is a celebration of the invincible spirit of our brand partners who never lost sight of their retail dreams. On our part, we made sure that we gave our very best to make those dreams come to life. Here is a recap of how we amplified customer delight and kept our focus only on the Eye of the Bird."
Brand Building@FieldAssist
The unique challenges that sprung up during the pandemic, as well as other rising complexities in the CPG space demanded a partner that stands strong on 4 pillars: someone who can evoke implicit trust, innovate fearlessly, is agile, and has deep expertise in not only the technology but the CPG industry too. 
We truly reflected these attributes, and therefore, redrafted our positioning to Proud Partner to Great Brands, a technology partner that is associated with great brands all around the globe, and is transforming the route-to-market capabilities and the distribution ecosystem of CPG companies.  The Proud Partner to Great Brands slogan is an ode to the consumer brands who trust us in their journey. Their courage to keep fighting challenges is an inspiration for us to simplify the complexities of sales and distribution in the CPG industry every day.
To mirror the same thought on our digital presence, we launched a sparkling new website- that we are there with our 550+ brands every step of the way. Taking that campaign further, we also launched our new Interview series called Pathfinders: Stories of Great Brands where we interact with FMCG CEOs and Founders to capture the exciting growth stories of impactful brands.
In the latest episode, Kartik Johari from Nobel Hygiene shares this critical piece of advice, " Your sales system- your manager, territory managers, regional managers- they are the ones driving the change, so without their buy-in, whatever fantastic technology product you get at whatever fantastic price, it is going to fail."  Taking our Proud Partner to Great Brands one step further, we also flagged off our new podcast series What the F..mcg! where our CEO chats up with imminent guests from the FMCG/CPG industry leaders.
But how will a  great campaign work without pressing the right levers? 
Customer Success@FieldAssist
To make sure we are top-of-the-mind-recall for our customers, the CST team made 100+ visits to customers across the country to further strengthen the engagement, seek feedback and identify areas where they could improve further. They also conducted hundreds of User Trainings in metros and even remote cities to ensure the highest levels of adoption. 
Out of the new brands we onboarded, many were those who moved over from a competitor. We got recognized for the high standards we had set for ourselves for managing customer relationships and responding to queries and escalations. What was also amazing was the appreciation we received from Consulting firms like  PWC, McKinsey etc for our products' quality and integration capabilities. 
So to all our customers, a big Thank You for sharing feedback and appreciating the regular engagement they get from the FieldAssist team.
But can the Customer Success team consistently deliver outstanding service without great products? 
New Products @FieldAssist 
In one of the most eventful years in the history of FieldAssist, we launched not 1, not 2 but 3 new products to create an integrated platform with solutions for every touchpoint. Now brands can effectively nurture and expand their relationships, stave off the impact of fierce competition or dynamic market conditions, and simultaneously be agile and responsive.  
a) Distributor Management System (DMS): offers faster resolution on claims and improves the efficiency of your primary & secondary distribution channels.
 b) MODMart: helps brands drive better in-store execution, improve stock management and track promoter performance. 
 c) Van Sales: With an end-to-end integration with our DMS, customers use our Van Sales module for ready stock management.
New Features @FieldAssist GT App
 

Intelligence Attendance:

Mid-Managers can now define specific KRAs and link targets to calculate attendance for their team.

 

Expense Management (TA/DA):

24/7 access to the Expense-to-Sales ratio gives clear visibility on how each person is performing vis a vis the expenses incurred

.

Asset Management

: Big brands use our Asset Management feature to keep track of their assets in the retail cold chain, like visi-coolers, refrigerators, freezers etc.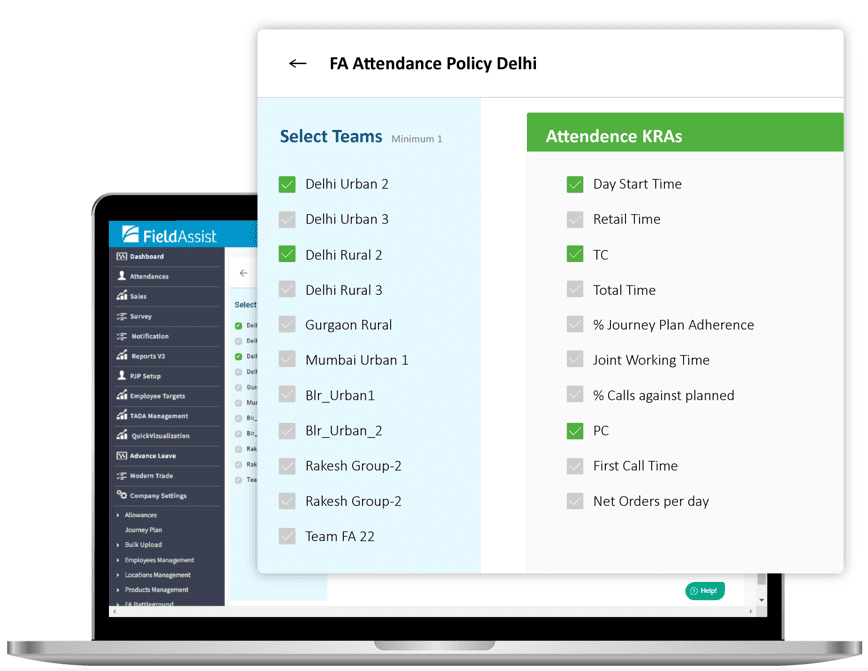 New Features @FA Analytics
Traffic Light Colour Coding in FA Analytics:

A new colour coding system offers a clear view of key KPIs, and red flags can be further drilled down to find out the root cause.

Personalised Dashboard in FA Analytics: The new dashboard is tailor-made for the CPG industry. Unlike other BI tools, FA Analytics offers simple UI/UX but a powerful architecture to showcase only the data you want to see. 
New Horizons@FieldAssist
In 2022, we accelerated our effort around repositioning and strengthening the FieldAssist brand. We also branched out into new geographies beyond India, and planted our flag in Ghana, Nigeria and other African countries.
We forged relationships with FMCG behemoths. We also expanded our presence in the segment of new-age brands and funded start-ups. We developed a deep understanding of the unique challenges that D2C-first companies face when entering retail and how we can resolve them effectively.  And we made sure that 2022 was all about our customers.
The Future@FieldAssist
We know for sure that 2023 is going to be special (with a little bit of luck and a lot of positive manifestation). The spiritual meaning of the Angel Number 23 focuses on three elements: Change, Progress and Growth. In 2023, the FieldAssist team will strive to step out of their comfort zone even further and create new pathways to reach new destinations. We are happy to share that we are starting the new year on a great note where FieldAssist received the Great Place to Work certification for the 2nd year in a row for 2022-2023.
There are a lot of other great things brewing in FieldAssist; we recently launched AI-based route optimization, and some other things like AI-based product optimisation will be unveiled soon.  
Our goal for 2023 is to excel in whatever brings value and growth to customers like you. We will carry on building innovative products for your problem statements. We will keep designing cool features for your burning problems, and we will continue hiring the smartest people and offering them an amazing culture to work in.  
On behalf of everyone at FieldAssist, I wish you the very best for 2023. May you and your team enjoy every moment, and may we together take your brand to new and exciting pinnacles!
About Post Author