At present, the Indian FMCG industry is embracing technology like never before with betting big on the power of emerging technology like mobile analytics, cloud, social engagement platforms, and the Internet of Things (IoT) to emerge as a digitally savvy industry. 
According to a report entitled "Decoding Digital Impact: A $45 Billion Opportunity in FMCG" by The Boston Consulting Group and Google. The report predicts that in 2020, digital influence will translate to FMCG consumer spending of nearly $45 billion. Leaders of two-thirds of the companies surveyed identified digitalization as one of their top three strategic priorities. 
It seems like the industry is on the right track. 
However, with the opportunity to symetricise such a vast quantum of data, the fundamental ideologies governing automation should be well explained and understood. Mere deployment of sales automation and BI tools would not always deliver the desired results due to minor technical errors of application or even psychological apprehensions. 
Therefore, we need to take a step back and revisit the entire SFA syllabus to comprehend its need, objective, processing, and every possible aspect.
Let's look at the factors that are hindering your current SFA implementation
.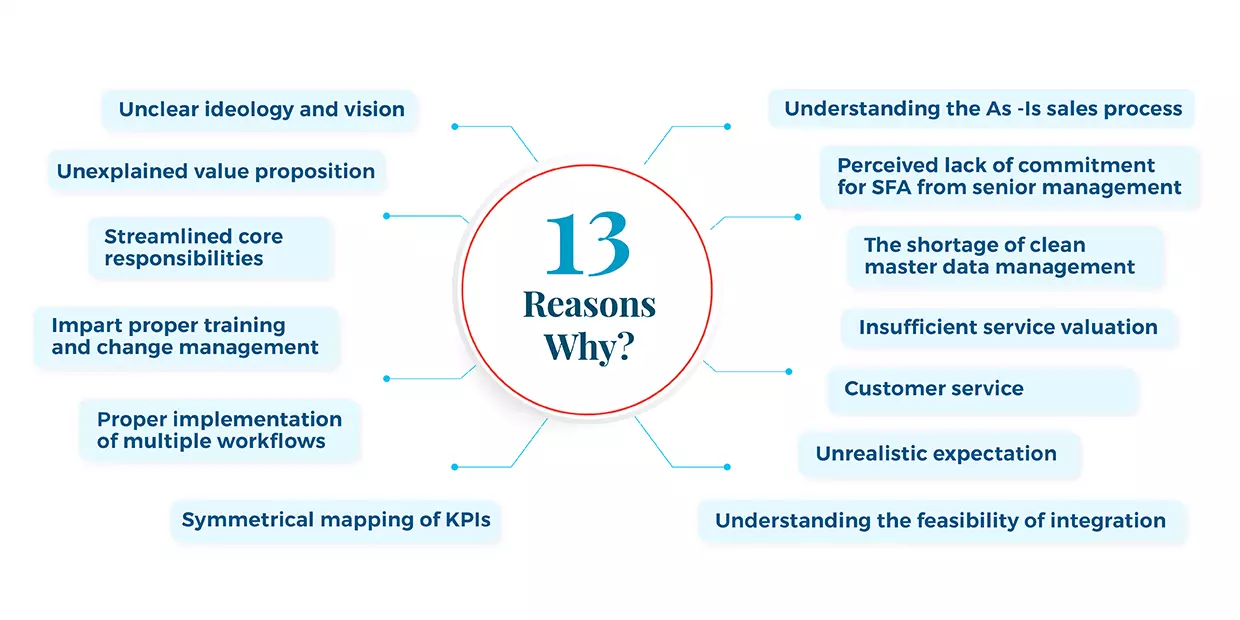 1. Unclear ideology and vision  
 We meet a lot of Industry stalwarts in our nature of business. One of them once mentioned, "They wanted to implement SFA because their competition implemented the same," now that's a classic example of unclear vision.
The reason for adopting sales force automation should be well and clearly defined with the proper objective and a vision of what it should achieve as a short term and long term goal. You cannot draft a tech roadmap just because everybody else is doing it. E.g., your teams might be working well with manual processes, and you are meeting your numbers, but implementing a new software should be clear to you and your top management on how it can further help you optimize your sales processes and team performance.
2. Unexplained value proposition 
The confidence of significance through SFA use, without self-doubt, can only be achieved through proper clarity of value creation by sales/automation heads amongst end-users.
Ask yourself questions like: What is the goal of implementing sales automation?, what are the current challenges to achieve that goal?, What will you be able to do with this SFA that you cannot do today? How will your business and life will change once you adopt this technology?
Once you get answers to these questions and you're on the same page with your vendor. Your project would be a success right from the start.
3. Streamlined core responsibilities
I met an MD of a Delhi based company who again wanted to implement SFA but without delegating the responsibilities to the right stakeholders. He just wanted to do it!
One cannot start the automation journey without defining the key stakeholders- Who will be the ultimate users, who will be reviewing the data, the role of MIS teams, the training, and adherence of sales teams. All these questions really make a difference. Else you will just beat around the bush without actually having a successful implementation and adoption of SFA. The well-communicated value proposition offers a sense of ease of work, better result output, and most importantly, extra time to explore better productive opportunities. 
4. Insufficient service valuation
Sales and Business heads who are involved with the procurement of SFA should stress on service features like:
Agility and scalability 

Holistic analysis of the SFA usage, leveraging the insights that can be derived from the quantitative data sets, and result derivation across marketing, operations, CRM application 

Multiple integration capability and capacity
Several times, comparative analysis and research-based procurement help analyze the best SFA solution for one's business. An incompetent SFA purchased and implemented based on cost, or marketed hoax might subside the usability and expected operational efficiency.
5. Proper implementation of multiple workflows
The implementation of SFA should be carried out post proper planning and scheduling of steps like installation, training, and going live date. Adequate time should be allowed for each stage's competition before the transition, and the vendor should supervise the entire process. This governance saves all the stakeholders from unnecessary hassles of deployment, network integration, among others. It is also advisable for companies to run a pilot SFA or have sandbox experience before procuring and going live. 
6. Symmetrical mapping of KPIs
The formulation of SFA for any sales team is based on the required KPIs related to team performance, market reach, and product availability. These KPIs help the sales team finally have real-time data visibility for effective and quick decision making. If these KPI parameters are not symmetrically followed up across the sales head's hierarchy, the implementation goes down the bin.
7. Understanding the As-Is sales process
One of SFA building's most productive aspects is to closely understand the company's current sales process and consult on what needs to be altered and what should be kept as-is. As an automation head, it is your responsibility to ensure the vendor understands your business supply chain and ask questions related to exceptions and boundaries. Several times, SFA failure is the resultant of omitted conditions of the incomplete screenings. 
Your SFA partner should understand the exact requirement, clear all the related doubts, and offer the best in class consultation accordingly. Being an industry expert, the solutions should be apt and conclusive to one's business requisites, budget, and unadulterated with brand/product pitches.
8. Perceived lack of commitment for SFA from senior management 
Ultimately, SFA adoption should follow the bottom-up approach and should not be restrained to the sales team. It is essential because senior management's commitment is essential for the success of a software implementation project. In its absence, any benefit derived from Salesforce will be lost as the user (management) abandons the automation efforts and delivery.
SFA should be unanimously integrated across organizational boundaries, and the process change should be accepted. In turn, this will ensure the top management will trust the software and derive benefits from it in their decision-making.
 9. The shortage of clean master data management
SFA is based purely on data. Now, if the raw material in itself is degraded, the output can never be impressive. The master data needs to be well sorted as per the KPIs and parameters (product hierarchy, attributes, retailers data, contract dates, etc.) and proper structuring for SFA build up. 
It is equally important to have an inclusive discussion before finalizing the data structure as to what is expected out of it. Finally, the master data should be clean, accurate, and relevant. Ensure the data concerns and data integrity are given due importance to averse any haphazard in the future.
10. Impart proper training and change management
The complexity results from a lack of information/no proper training, or mere theoretical knowledge on the subject. Companies need to understand the advantage of time investment in end-user training. Training should be more interactive, on the job, case-based, practical, and inclusive. 
Ensure your end-users and sales representatives understand the basic idea of automation and automated factors. The purpose of the training should be to impart change in the thought process; sales teams should not repel from using it. They should look at it as their friend while on the field. This will help them build confidence to overcome basic issues of SFA if any.
11. Customer service
Ensure your SFA vendor offers exceptional customer service even after deploying the software, irrespective of your process/ business size. A 24*7 customer service has become an evident and undeniable USP for almost every product/service and should never be overlooked. The criticality of having customer success teams and backend support ensure the diversion of any contingent complexities and building trust with the customer.
12. Understanding the feasibility of integration
An SFA solution conveys the best-desired results when integrated with an existing platform like CRM, ERP, legacy systems, or accounting software. In short, operations and data as silos are not the best solutions to leverage SFA solutions.
13. Unrealistic expectation
The adoption and implementation of SFA in existing business modules serve specific expectations. At large, the choice of SFA edition, integration level, service specification, deployment version, etc., are based on particular requirements. When we deploy an automation process, the business must understand that it is not a complete one-in-all solution. An SFA module integrated with CRM/business analyst/etc. have specific goals and should not be expected to draw exponential results voluntarily or perform micromanagement. 
For example, your SFA app can help you make your teams perform better by engaging them, giving real-time performance visibility, giving public recognition, and rewarding them for their performance. However, you still cannot control the attrition as there are many other intangible factors involved. 
Therefore, businesses could not rely entirely on an overlooked automated process. It required your cognitive understanding and realistic expectations from the SFA app.
If you want to explore your business's untested reins, do get in touch with our experts today. Click here to let all your agitation related to automation bid a goodbye! FieldAssist is all set to assist you in the field. 
About Post Author