FMCG Sales Process
Never has there been such an exciting time in the Indian FMCG industry! With digitization and globalization driving advancements, the possibilities have become endless. The FMCG industry is characterized by a complex distribution network and intense competition forcing firms to constantly work on supply chain innovation, which is great for consumers. Companies with a structured supply chain system are bound to perform well, whereas those with poorly managed supply chains will find it tough to even survive in this competitive market. There are however some major challenges in FMCG sales process.
The household-products area, for example, has dropped from the sixth most profit-generating industry at the start of the century to the tenth, measured by economic profit. Food products fell from 21st place to 32nd. As a consequence, FMCG companies' growth in TRS lagged the S&P 500 by three percentage points from 2012 to 2017.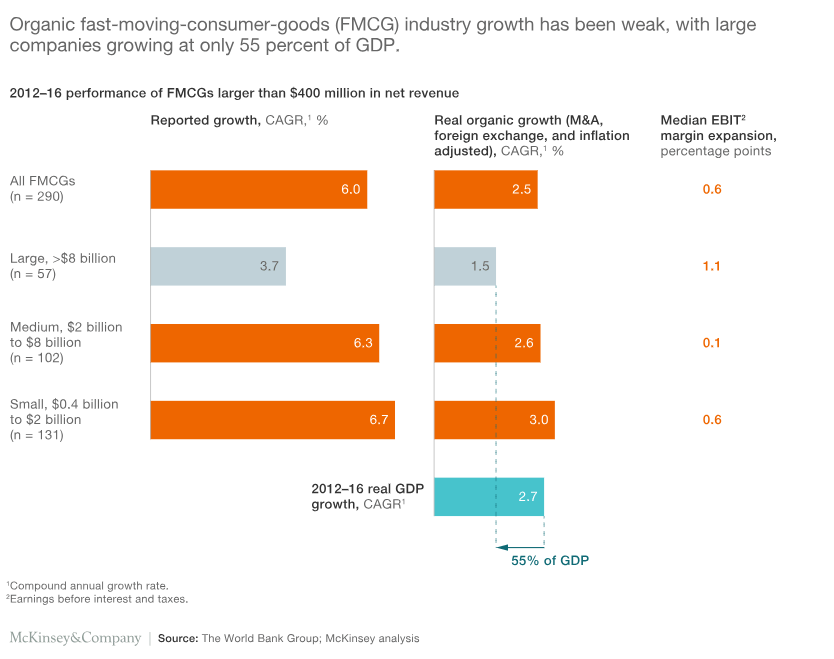 The curve in technological advances has not been adopted by most FMCG firms, especially in their FMCG sales process. Some common concerns include:
Optimizing inventory and warehouse management
Utilizing the consumer's purchasing preferences to make selling decisions
Personalizing the consumer experience
Leveraging automation to drive purchasing at different levels of the consumer's journey – awareness, consideration, decision.
Automation in the sales team with the sales force automation app could allow for players in the FMCG industry to find answers to the above and leverage these to optimize profits and productivity.
Multi-channel process
The Indian FMCG sector has to work with a very complex distribution system comprising multiple layers of numerous small retailers between the company and end customer. To increase market penetration, Indian FMCG companies have realized that they need to reach out to consumers present at the lower end of the economic pyramid. Consumerism has broadened the spectrum of opportunities for the Indian FMCG sector. Eventually, companies will have to find innovative ways of balancing market penetration and logistics cost.
Mismanaged supply chain
The difference in the supply chain functions defines the sales and revenue for the company to some extent. With the passing years, there have been a number of changes in the supply chain process which has made the process simpler but at the same time complicated things sometimes. Consumer goods suppliers have to manage large volumes and fast rotation rates with distributors, so they demand a transport and logistics chain capable of constant agility, not something every FMCG sales process can cater to.
Shelf Space vs ROI
Is your shelf space giving you enough ROI? It's important to understand what products to promote. Shelf space is one of the biggest concerns in FMCG sales process for FMCG firms not just in India, but all around the world have. More doesn't always mean better, and it's important for companies to have the data to figure out what is working and what isn't.
Functioning in unethical ways
It is a common notion in FMCG sales process distribution that only 50 percent of the promotion actually reaches the final customer. This is due to the fact that many distributors work unscrupulously. Rather than playing the role of the facilitator, they try to grab a significant part of the promotion budget for themselves. This results in FMCG companies wasting a significant portion of their sales. Thus, FMCG companies end up wasting a significant part of their resources on these issues, which do not really add any value to their customers.
Delivering personalized promotions
Modern retailers in India have been trying to extract higher margins from FMCG companies to offer better deals to their customers. In India, the FMCG sector finds it difficult to offer the kind of deep discounts that modern retailers have been demanding. On one hand, FMCG companies will have to bypass their existing stockists and distributors, so there is a likelihood of channel conflict. On the other hand, they also have to examine the impact of higher discounts to modern retailing on the overall distribution system.
As mentioned above, having a better understanding of the consumer can not just allow FMCG companies to provide better discounts, but this can be done at a more reasonable cost to them.
Moving forward
One of the very first steps in the right direction for FMCG companies in India would be to look into automation in some way or the other. The efforts towards addressing the above challenges in FMCG sales process should be approached with controlled urgency. With ever-increasing digitization, there is no escaping from what is going to be a complete evolution in the FMCG sales process. 
About Post Author