Thanks to Retail Analytics, the traditional and online retail space has witnessed a transformation in the last few years that it had not seen in decades. Today, nearly all FMCG companies have a sales force automation system or sales tracking software to gather intelligence from all touchpoints in the ecosystem.
Data is the new oil
Brands today are sitting on a gold mine of data. Yet, many are unable to make use of it and link it to business outcomes. Sure, MIS managers use excel sheets and a thousand formulae to cull out reports, but neither are these reports made in real-time nor are sales leaders confident about the accuracy of the data in them. Eventually, the GTM strategy suffers.
For instance, if a brand doesn't utilize its data to determine which products in traditional retail will sell better at which type of customer touchpoint, it may not be able to deploy new products effectively, thus leading directly to loss of sales revenue. 
The story with modern (non-traditional) sales channels is not much different. For example, a few companies have sales officers who go to outlets and collate the attendance of promoters and merchandisers. However, this is done only once per week. The brand does not obtain real-time attendance data. This means that if a promoter is consistently absent, the company will not know until six days later. That is six days' worth of product sales down the drain.
Considering the cutthroat competition, even a single day without in-store sampling or promoter-led selling means more than just revenue loss. It may also result in 'consumer erosion':  consumers who were once your brand loyalists, but because they had to pick up another brand today, they may not be as likely to purchase yours tomorrow.
Big data, bigger opportunities
FMCG brands need authentic, real-time data analytics and verified intelligence to stay ahead of the retail game. In India, the analytics industry grew by 34.5% YoY in 2022, reaching $61.1 billion in market value.
Within the consumer goods industry, brands with the most digital maturity in harnessing retail analytics are the ones creating significant value for themselves. A data-driven sales strategy is often the biggest difference between a good year and a great year. 
The choice is clear: CPG firms can either fully tap into the power of digital and retail analytics, or risk being left behind.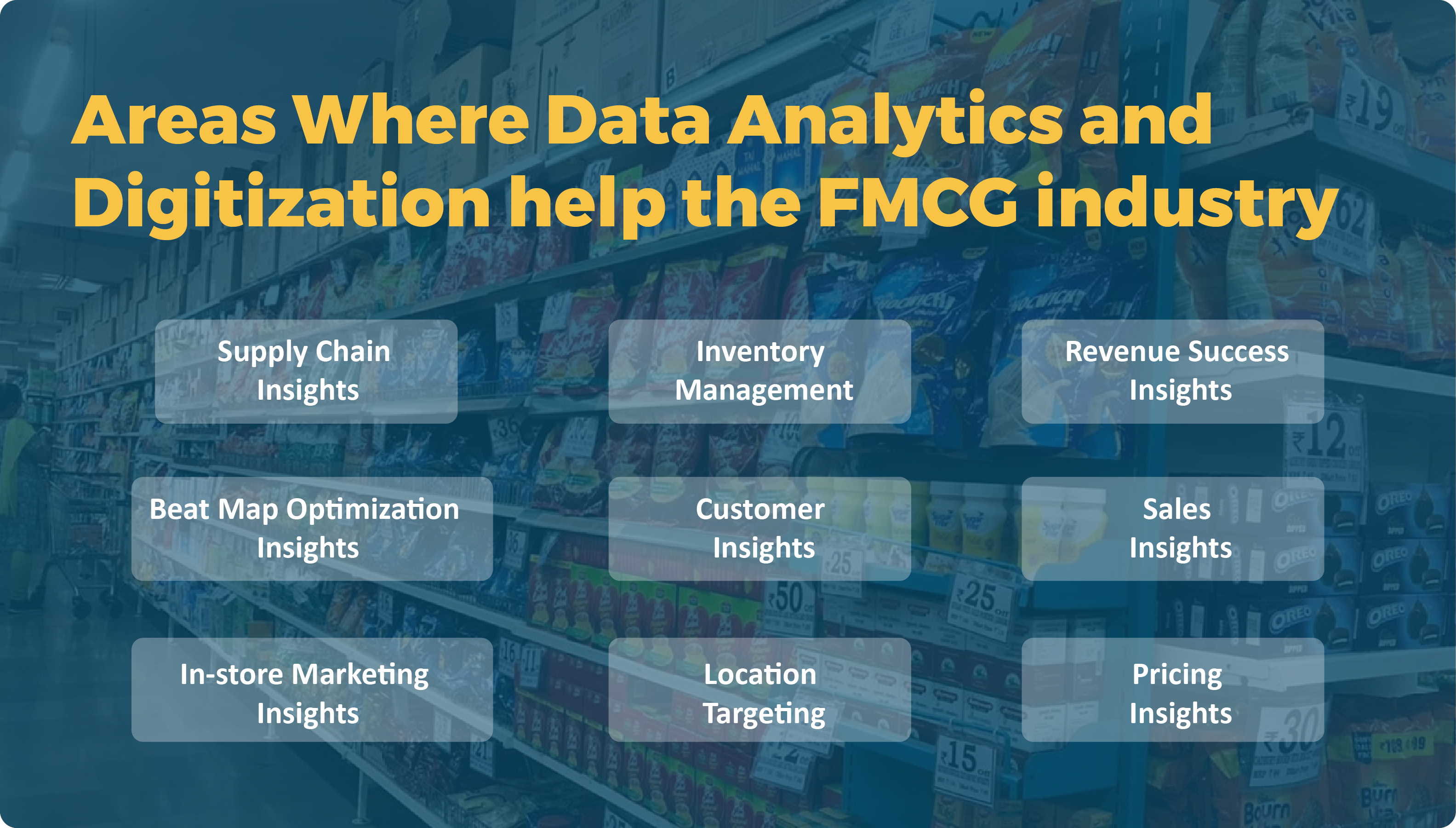 Making sense of data to deliver business outcomes
The FMCG industry operates through a wide distribution network and covers the urban and rural markets mostly through 'kirana' (mom and pop) stores. These shops make up nearly 80% of FMCG presence in India. Hence, understanding basket trends and consumer behaviour through structured data prompts businesses to achieve accurate insights to make informed sales decisions.
Retail analytics solutions can uncover interesting statistics while providing direction in areas such as store layout, navigation, promotions, inventory management and strengthening store conversion rates. Marketers can intelligently determine the most profitable and satisfying experience for the end user.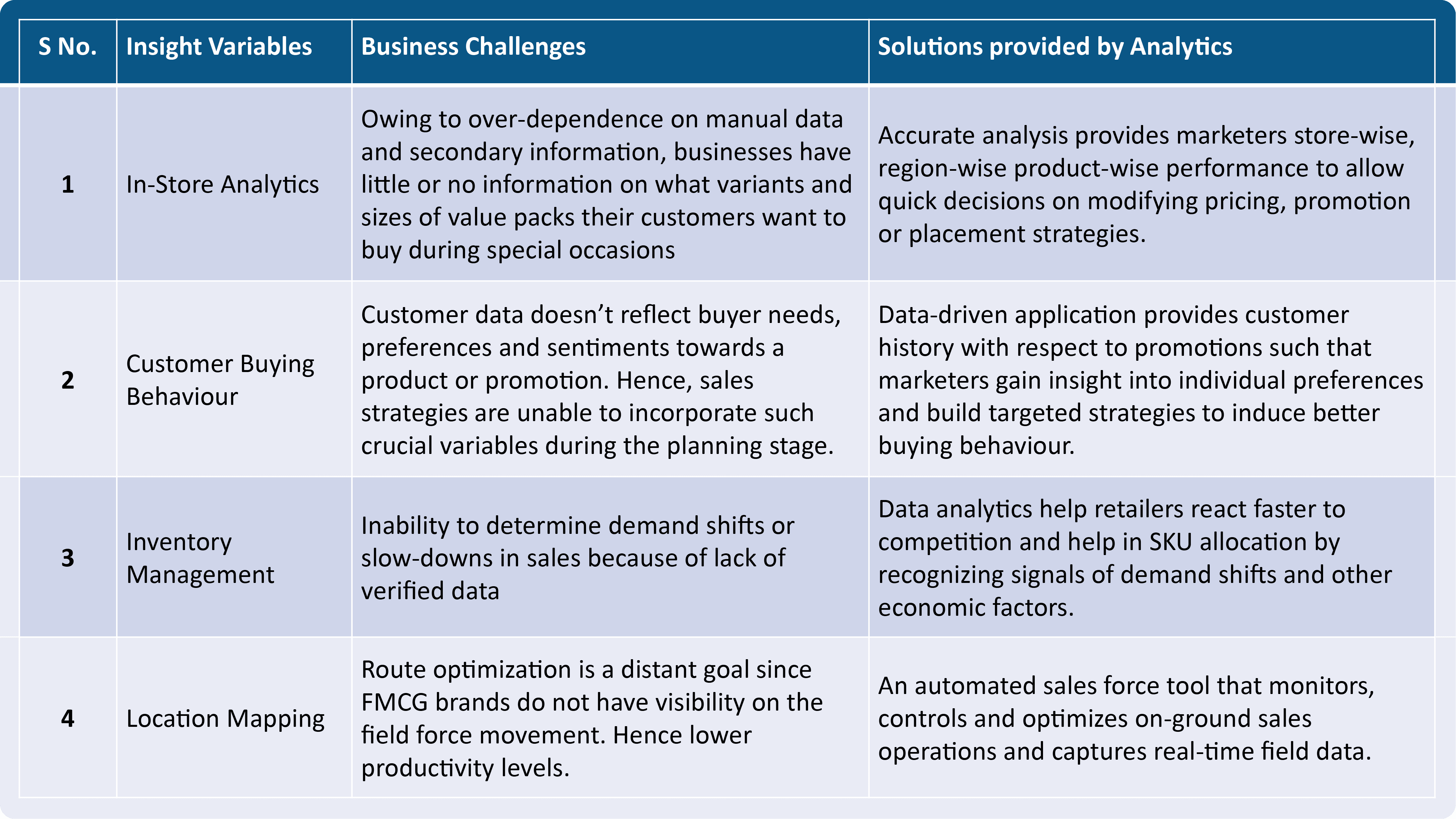 Retail Analytics is shaking up FMCG retail
Being one of the fastest-growing sectors in the Indian economy, FMCG revenues saw a significant increase from the previous year, reaching $110 Billion in 2020.
Highly differentiated product offerings, extremely discerning customers, and the fiercest of competitors add to the demanding nature of the FMCG space. 
Retail analytics provides valuable insights into consumer purchasing habits, such as what products are being purchased, when, and at what price. This data can then be analyzed to identify patterns and trends to make informed decisions on product assortment, pricing, and marketing strategies, leading to increased sales and profitability.
Medium and large-scale companies are investing significantly in sales tools such as SFA (Sales Force Automation) and DMS (Distributor Management System) to gain market share, improve productivity levels, enhance distribution strategy, and augment revenues.
Welcome to the future: Digital, tech-driven, and business-oriented
Imagine an FMCG company with both physical and online presence. By combining sales data from its social media handles and offline presence and feeding it into a retail analytics solution, it can develop targeted social media and below-the-line campaigns to increase sales for product categories that already intrigue customers. 
A massive rise in digital adoption, therefore, ensures that brands improve their point-of-sale marketing, customize products to suit regional preferences, and simplify their retail operations.
Through its various solutions available on an integrated platform, FieldAssist can assist CPG companies collect, deconstruct and deploy retail intelligence to help them stay a few steps ahead of the competition – and a thousand steps closer to their consumers.
About Post Author