If you still think that 'data is the new oil,' NOW is the time to rethink this analogy.
In a recent story, KPMG reimagined this analogy by proposing – data is water, and believe us, the analogy is apt like never before. Why? Because you might be able to survive without a barrel of oil but imagine living even a day without water! We all know how crucial data analytics has become in the recent era to survive in a cut-throat competitive business landscape. If businesses don't understand it yet, they will be out of the league even before they know it. As Geoffery Moore, one of the famous American Authors and Consultants, once mentioned, "Without data analytics, companies are blind and deaf, wandering out onto the web like deer on a freeway."  
FMCG and Data Analytics – An Example
Let us try to understand the notion with the help of an example from the FMCG sector.
Imagine a major player in the Indian FMCG sector with 200 brands under its umbrella. Suppose your local grocery store has 10 of those brands, out of which 3 are your favorite. Suddenly, one day you visit the store to buy your favorite snack, just to find that there is no stock available. You ask the retailer, and he says, "Maal peeche se nahi arahaa" ( The stock isn't available from the supplier end). Now, you are a frustrated consumer that has to find some other snack to fulfill your craving.
If the brand had paid attention to such a stock out situation proactively and tracked the order booking to product delivery journey well, the scenario would have been different. For the brand, it wasn't just the stock's non-availability, but a loss of revenue and brand image.
Isn't it?
However, this is easier said than done. Be it data collection of what's happening on-ground or data processing of finding hidden patterns in sizable unstructured distributor networks – brands require an arsenal of sales automation tools and business intelligence platforms to manage the supply chain effectively. 
With an industry experience of more than 10 years, we understand FMCG business's complexity and how effective reporting and real-time data visibility can accelerate the growth of any business.
FA Analytics – Real-time, Data-driven, and Result-oriented
FA Analytics App empowers business leaders with real-time data and personalized dashboards across market intelligence, team performance, and product visibility to make informed decisions on the go. Let's know-how : 
Real-time Market Insights with Smart Alerts
FA Analytics App offers you real-time actionable insights into the on-field sales data and enables you to dig into the sales reps' itineraries as well. You can have outlet wise visibility, inventory availability on every outlet, a personalized dashboard for each salesperson outlet coverage, and much more. You can get instant alerts on your field team activities such as new outlet creation, users who didn't start the day, tour plan creation, and other exception alerts.
With FA Analytics App, you can choose a set of metrics and generate custom defined reports that offer you the best insights into the overall sales performance and productivity. So, you can process the complex data blocks in seconds and make sales-driving decisions in an informed manner.
Team Performance Reporting With Personalized Dashboards
The App offers impeccable people analytics by providing Interactive Daily Summary about Field Visits, Sales, and coverage at your fingertips. You can track your sales team's performance on 40+ KPIs like how many calls each person took, how much time it took to complete every call, and how many calls brought positive results. So, be it a report, a target, or sales coverage – you can rest enjoy supreme insights. 
With such visibility of your team activities, you have enhanced performance reporting. You can automate the periodic report generation for performance measurement. So, from incentives to appraisals and strategizing to drafting new agendas – you have just the right digs at your fingertips! 
Product Visibility and Outlet Reach
Suppose you expanded your SKU base, or you want to find retailer clusters with the highest selling numbers or identify the beats that need more attention. In that case, FA Analytics App offers enhanced features like Market/Product Surveys, beat-o-meter, FA battleground that can help with real-time product reviews, drive growth and keep your sales team engaged and motivated at the same time. You can configure data pointers as per your business needs and personalize the reports for yourself.
Digital disruptions are revolutionizing the global markets and industries like never before, and the FMCG sector can no longer refrain from embracing them for a future-relevant performance. After all, having the right business intelligence at your fingertips well before a hurdle surfaces up is the best strategy a brand can ever have.
Don't slog-your-resources-off in just collecting numbers. Get the right business intelligence and drive meaningful insights with the FieldAssist analytics app. Try out today!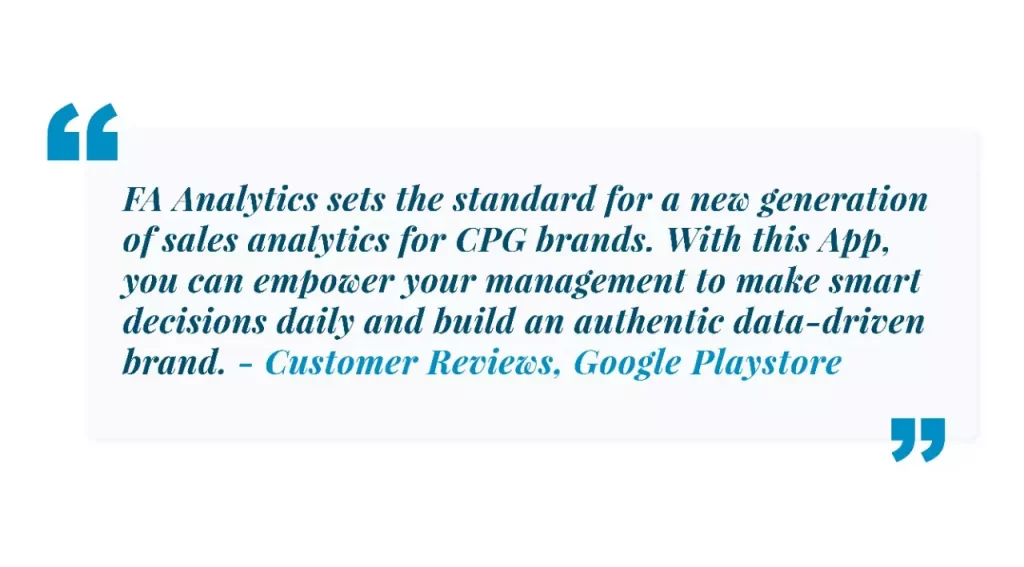 About Post Author